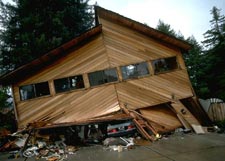 Earthquakes are a real and present danger in California, yet the typical homeowners insurance policy do not cover earthquake damage... Does yours?



We offer California residents alternatives to the limited earthquake coverage most insurance companies offer. Our products were created to provide the type of broad protection you need in order to protect your greatest investment at a price that is surprisingly affordable.




Click here to find out how affordable earthquake insurance for your home can be!




Avoid Financial Aftershocks
Our Comprehensive/Premier/Superior Policy offer more complete protection for your dwelling, other structures, personal property, and additional living expenses. The policies can include 10% deductible options (where available), which is lower than the deductibles offered on most earthquake policies.





Our Standard Policy was designed to provide protection for the dwelling with limited coverage for your personal possessions and additional living expenses. The policy comes with a 15% deductible and can provide substantial premium savings over similar coverage offered by most insurance companies.




Are You Prepared?
Every day is earthquake season in California.® There's nothing we can do to prevent them. But there are things we can do to prevent or reduce the harm they cause.

We are committed to reducing injury, loss of life and property damage from earthquakes by motivating Californians to properly prepare themselves and their residences. Our Mitigation Program supports earthquake preparedness and mitigation efforts to make all Californians safer.




Earthquake Preparedness
Earthquake preparedness means taking the steps necessary to prepare yourself and your family before an earthquake strikes. There are simple things you can do to make your family safer.

Create a disaster-preparedness plan.
Prepare disaster kits.
Protect yourself during earthquake shaking. If you are indoors, DROP, COVER, AND HOLD ON.
After the earthquake, check for injuries and damage and, when safe, follow your disaster-preparedness plan.
Consider how you would financially recover after an earthquake. Should you learn more about earthquake insurance?
Earthquake Mitigation
Earthquake mitigation consists of the steps you can take before an earthquake strikes to improve the safety of your home.

Do you know many injuries and substantial damage can result from unsecured objects in your home? Identify potential hazards in your home and begin to fix them.

Do you know that the age and type of construction contribute to how a residential structure reacts during an earthquake? Identify your building's potential weaknesses and begin to fix them.